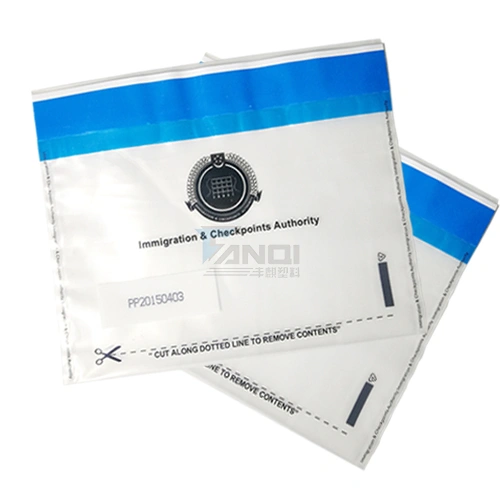 Tampering involves the deliberate altering or adulteration of information, a product, a package or system. Security features can be implemented in all phases of production, distribution, logistics, sales and use. No single solution can be considered as "tamper proof". Often multiple levels of security need to be addressed to reduce the risk of tampering. Some considerations might include:
»Identify a potential offender and what level of knowledge, materials & tools they have.
Many businesses and institutions are faced with collecting, cataloging and retaining individuals' personal property.
»Improve the tamper resistance by making tampering more difficult and time-consuming.
»Add tamper evident features to help indicate the existence of tampering.
Hospitals and health care facilities, prisons and jails, police departments, schools, universities and really any facility where individuals are required to "check" personal items.
»Identify all feasible methods of unauthorized access into a product, package, or system. In addition to the primary means of entry, also consider secondary methods.
»Control or limit access to products or systems of interest.
»Educate people to watch for evidence of tampering.
Our 
tamper evident bag
's usage spectrum is wide, including but not limited to Government offices/Governmental agencies/Law enforcement agencies/The Military/The Defense industry/The Aviation industry/Laboratories and other research facilities/Medical institutions/The Pharmaceutical industry/The Bullion industry/The Hospitality industry
Banking: cash-in-transit, cash deposits, cash couriers
Police: evidence, confidential information-communication
Government: confidential and sensitive documents or records
Airlines: duty free, lost items, liquid containers
Hospitals: drugs, blood and pathology specimens, patient records
Mining: precious gems and high value items storage/transportation
Sport: athlete,horse,dog specimen sample storage and transportation
Mail: secure postage
Education: exam papers, confidential information.  
What security level suits your needs?
FQpackaging security bags feature tamper evident indicators, divided into 4 categories. These range from low-risk items such as courier and express security bags to high-risk items including police evidence bags and highly sensitive documentation. Our team can help you select the right level of security product to suit your application.  
Level 1: For low risk contents.
Bag Material: Made with Co-ex film for greater strength. Available in both clear and opaque material. Resistant to both water and oil.
Has permanent closure, security side welds
Bardcoding and unique numbering: Tracking and identification validity.
Voiding: Tape will highlight tampering or any attempt to remove.
Example: Courier security bags.  
Level 2: For medium risk contents.
»Permanent closure
Sealing Weld: Extra strengthened flat weld with a printed message will show any attempt to open and reseal
»Tamper evident tape – Revealing security messages exposing "VOID OPEN" message
»Example: Bank bag/ 
Disposable bank bags
Level 3: For high risk contents.
Temperature: Hot air attack will result in reaction of thermochromic ink. Tape will void with any cold or Freon attempt
Sealing Weld: Extra strengthened flat weld with a printed message will show any attempt to open and reseal
Tamper evident sealing to give irreversible evidence of tampering
Example: STEB (Security Tamper Evident Bag) – such as Duty Free Bags  
Level 4: Maximum security for high risk contents.
Permanent closure——
Sealing Weld: Extra strengthened flat weld with a printed message will show any attempt to open and reseal
Tamper evident packaging tape – Premier grade with extreme temperature indicators
Special ink will disappear if chemical-based tampering or other "wet" methods
World class tamper evident tapes
Example: Tamper Evident bags